TKY Batwing Fairing, Ready for Stereo and 6"x9" Speakers. The fairing arrives complete with a hand-laid fiber glass construction, personalized windshield, complete mounting hardware, and pre-drilled holes to allow for the installation of a single-din radio and 2 x 6"x9" speakers.
Includes
Hand-Laid Fiberglass Batwing Fairing: Detachable Outer and Inner Panels
Pre-Drilled holes for Single-Din Radio & 2 x 6"x9" Speakers (stereo and speakers not included)
Choices of Finish: 2K Primer (Ready to Paint-Grey Finish), Black Gel Coat, Gloss Black Painted
Reliable Mounting System: Direct bolt on mechanism, durable, mirror-polished, and corrosion-free stainless steel brackets
Acrylic Windshield: Clear or Tinted 5"/ 8" / 10"
Radio Antenna: AM / FM Radio
Wiring Harness for Power
Water Proof Stereo Housing: Cover to Protect the Stereo (Preinstalled)
Wind and Weather Protection - Make long trips easy with integrated weather protection provided by the fairing and the windshield
Double Rubber Sealed Edges - Double seals between the outer and inner fairing make for a noise free and quiet ride
Excellent Quality - Quality handlaid fiberglass construction rather than ABS plastics
6 Month Manufacturer Warranty
*Some models require original OEM mounts (See Notes Below)*
Road King Custom 94-Up: The chrome wind deflector and the chrome trim strip on top of the nacelle must be removed and replaced with the Road King Standard style handlebar mount cover and chrome nacelle top chrome strip. Also requires relocation of stock turn signals.
The following bikes require the use of factory windshield mounts: Softails,Touring Harleys, Vulcan 2000 and 1700LT Classics
The following bikes require the speedometer to be relocated: All Victory, Valkyrie, Sabre, Marauder 1600 and Meanstreak
The following bike requires the passing lamps to be removed: Victory Cross Roads Classic LE 12-14

The following bike requres the factory mini fairing to be removed: Harley Sport Glide 18' Inverted Forks
The video below displays the TKY Classic Batwing Fairing with Preinstalled Stereo and 6" X 9" Speakers only to display the matching fairing construction between the fairings.
Optional Smartphone Holder With Fairing Mount
The Smartphone Holder is designed to be quick and simple, just flip the lever to lock your smart phone into the secure rubber molded fingers.
Intuitive ball mounting system allows for a broad range of angle adjustment
Fits devices from 2 1/8" to 3 1/2" wide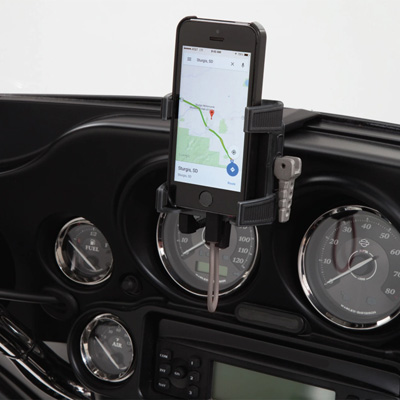 Note: TKY Fairings and Saddlebags are custom made to order. Please allow 1-3 weeks to ship
---
Connect with our Team


Questions?

Call or WhatsApp: 786-242-5400 📞