The TKY Choppa Fairing is designed for the Honda Fury and other choppers. The fairing provides a low profile design and streamlined style to maintain the chopper identity of any motorcycle while also providing wind protection and a complete bluetooth stereo system. The complete mounting kit, wiring harness, and pre-installed stereo system is included to get your chopper on the road with an enchanced look, entertainment, and wind protection.
Features:
ABS Plastic Batwing Fairing: One Piece Construction
Complete Bluetooth Stereo System - 2 x 6.5" TKY Waterproof Speakers:100W RMS / 200W Peak Power (Pre-Installed)
Double Rock 320 Watt Amplifier - 2 Channel (Pre-Installed)
Handlebar Remote Control v5.0 with Bluetooth (Skip Songs/Adjust Volume) (Pre-Installed)
Your Choice of Finish - Ready To Paint 2K Grey Primer Finish / Gloss Black Paint
Mounting Hardware Included
Bluetooth / AUX
Storage Compartment for Amplifier/Wiring Storage
Wind and Weather Protection - Make long trips easy with integrated weather protection provided by the fairing
Lightweight and Durable ABS Construction
Wiring Harness for Power (Preinstalled)
12v Power Plug to power cigarette lighter, charge phone, etc (Preinstalled)
1 Year Warranty on Fairing / 1 Year Warranty on Electronics
Fully Assembled with Mounting Instructions
Additional Features:
ABS version:

Precision CNC molding
Industrial Grade ABS material, guaranteed to be as strong as fiberglass version

Aerodynamic Design


Quick Detachable:



Attach and detach in seconds

Available for all available bikes

Reliable mounting system: very strong, polished, corrosion-free stainless steel mounting brackets


Metal theads embedded in ABS:-

There are 6 metal theads for mounting brackets (M8 size, 3 for each side) which are embeded into ABS. Much more secure than using nuts and make it easier for periocally check.


Wiring Harness:-

Water proof connector, fused wiring harness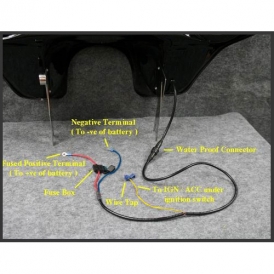 Outer and inner fairing made in ONE PIECE:



Smooth and completely new design

Reveals the level of workmanship


Bluetooth Handlebar remote control v5.0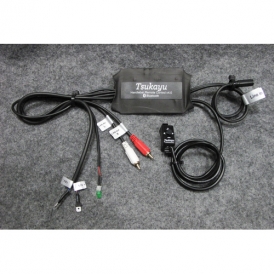 works with any music player with stereo Bluetooth fuction, or works with any devices with headphone output (Limited function).

- Waterproof rain cover is included


Double Rock 320Watt powerful amplifier

- 2D39 Comes with the fairing

TKY powerful 6.5" waterproof speakers: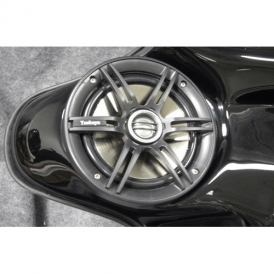 - 100W RMS / 200W Peak power each

- 20 oz strong Magnet each

- Waterproof


12 Volt Plug:

- built inside the upper compartment, for charging your cellphone, music player, etc.


Wind and weather protection

- Make long trip an easy task with protection from weather


Real ready to paint

- primed, compatible with all types of paint, smooth finish without fiber strand print-through
Includes:
Free TKY mounting brackets and other miscellaneous hardware

Free Handlebar remote control v5.0 with Bluetooth (pre-installed)

Free Built-in Double Rock 320Watt powerful amplifier (pre-installed)

Free 12 volt plug preinstalled

Free AUX cable

preinstalled TKY 6.5" waterproof speakers

preinstalled wiring harness and connectors

ABS version, detachable one piece fairing

TKY Choppa Fairing is specifically designed for choppers and custom motorcycles with long headlight, high headlight position. It is designed to keep laying low on the bike that means it will not add too much height to the front-end, and with it's streamlined, perfect aerodynamics design, the chopper style of your bike will be maintained. Plus you may enjoy quality and powerful music provided by the built-in Class-D powerful amplifier, handlebar remote control with Bluetooth and quality speakers. Choppa fairing can be mounted at various angle and position with custom made TKY quick release brackets, you may send us photos and measurements of your custom bike according to our instructions so we will make sure the fairing will be mounted at the perfect position and angle on your bike. TKY Choppa Fairing is manufactured by precision CNC molding, outer and inner fairing are made in one piece, which reveals the level of workmanship of this art piece. Material is ABS plastic with 3/8 inch average thickness!! With TKY Bluetooth handlebar remote control v5.0, you can play music with your thumb easily and conveniently. It works with any music player with stereo bluetooth fuction, like iphone (including iphone, ipad, samsung galaxies, etc); or works with any devices with headphone output (Limited function).

Note: TKY Fairings and Saddlebags are custom made to order. Please allow 1-3 weeks to ship
---
Connect with our Team


Questions?

Call or WhatsApp: 786-242-5400 📞