The Reckless Motorcycles Batwing Fairing (
Stereo Included
) made specifically for Honda VTX 1300 & 1800.
With comfort, style, and audio all within a single fairing, the Reckless Classic is a serious bang for your buck. Made in the USA, with a hand laid fiberglass construction, pre installed stereo system, personalized windshield, and bike specific mounting hardware. The upgrade to truly transform your Honda VTX into a touring machine.
Features
Hand Laid Fiberglass Batwing Fairing
Fairing Arrives in Black Gelcoat
*Mounting Hardware Included* (Details Below)
Acrylic Windshield: Clear/Tinted (5"/ 10")
Radio Antenna: AM / FM Radio (Preinstalled)
Bluetooth / Radio / USB Port / AUX
Wind and Weather Protection
Wiring Harness for Power (Preinstalled)
Water-Proof Stereo Face
12v Power Outlet
Double Rubber Sealed Edges
Lower Noise and Wind Buffeting
Detachable Outer and Inner Fairing
Excellent Quality Hand Laid Fiberglass
5 Year Warranty on Fairing
1 Year Warranty on Electronics
Fully Assembled with Mounting Instructions
Made in the USA
Your Choice of Stereo Unit
Infinity Bluetooth Unit: R3000
JBL R4500 Bluetooth Unit: JBL R4500
Your Choice of Speakers
2 x 6.5" Rockford Fosgate P1650 Speakers
2 x 6x9" Rockford Fosgate P1692 Speakers
4 Rockford Speakers: 2 x 6.5"+ 2 x 5.25"
2 x 6.5" LED Rockford Speakers- 16 Colors
Your Choice of Windscreen
5" (Clear / Smoked)
10" (Clear/Smoked)
Additional Accessories
Smooth/Vented Front Look
Rockford Fosgate Punch PBR400x4 Amp
Handlebar Remote Control
Windshield Trim
Storage Pouch
Fixed/Adjustable Wind Deflectors
Smartphone Holder
Klock Werks Flare Windshield
Stereo Options
Includes Infinity R3000
The Infinity digital media receiver features a compact, weather-resistant design that stands up to sun, spray, and rough weather to make for a great stereo in your Reckless batwing fairing. This stereo includes AM, FM, and WB radio, as well as USB and auxiliary inputs so you can listen to tunes stored on a thumb drive or portable music player. And you can stream music or podcasts from your smartphone or other device using the latest Bluetooth® 5.0 technology.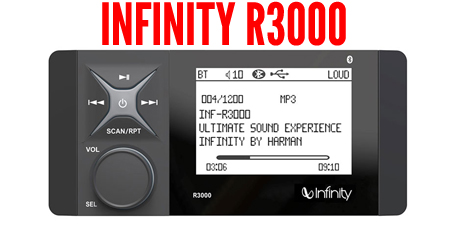 The R3000 includes a pair of preamp outputs, so you can expand your system with a marine amp or powered sub. The easy-to-read LED display shows you what you're listening to with just a glance, while the IPX7-rated face and controls will stand up to the elements for seasons to come.
Marine digital media receiver (does not play CDs)
Built-in amplifier (20 watts RMS/55 peak x 4 channels, 2-ohm stable)
4" black and white LCD screen
Built-in Bluetooth® 5.0 for music streaming
AM/FM/Weather Band tuner
IPX7-rated watertight, UV-resistant front panel
Inputs: rear AUX and USB ports
Outputs: 2-channel preamp outputs
MFR # INFR3000
Optional JBL R4500
The JBL R4500 is a digital media receiver built for marine conditions to make for a perfect stereo in the Reckless batwing fairing. This stereo combines JBL's reputation for great sound with marine-rated toughness. With its compact, weather-resistant design, built-in amplifier, and 4" color LCD display, it's the ideal centerpiece for your fairing's stereo system. This JBL radio includes a color screen display that the Infinity radio does not offer.
Marine digital media receiver (does not play CDs)
Built-in amplifier (20 watts RMS/55 peak x 4 channels)
4" color LCD screen
Built-in Bluetooth® 5.0 for music streaming
AM/FM/Weather Band tuner
IPX7-rated watertight; UV-resistant front panel
NMEA 2000-ready
Inputs: rear AUX and USB ports
Outputs: 2-channel preamp outputs
2-ohm stable so built-in amp can power up to 8 speakers
Three sets of line level differentials
MFR # JBL-R4500
Speaker Options
Rockford Fosgate 6.5" P1650 Speakers
The 6.5" Rockford Fosgate speakers are perfect for the rider looking to get great levels of sound without breaking the bank. Experience the signature VAST surround technique to expand the surface area of the speaker cone, giving you better bass response than comparable speakers. But no matter how heavy the bass gets, the P1650's dome tweeter provides clear, extended highs for a rich full-range sound.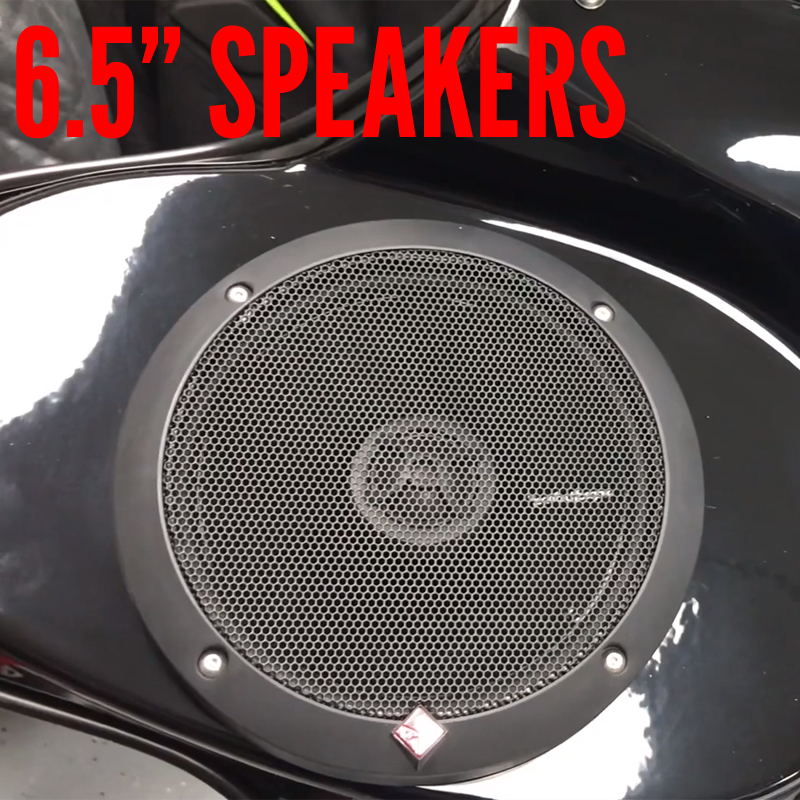 Product highlights
2-way 6-1/2" speakers (pair)
Injection-molded mineral-filled polypropylene woofer
Santoprene rubber surround
3/4" treated PEI dome tweeter
Vertical Attach Surround Technique (VAST™) increases cone area
Power range: 5-55 watts RMS (110 watts peak power)
Frequency response: 45-20,000 Hz
Sensitivity: 88 dB
Top-mount depth: 2-5/16"
Grilles included
Warranty: 1 year
Rockford Fosgate 6x9" P1692 Speakers
The 6x9" speakers are made for the bass lover looking for the highest levels of deep bass paired with strong levels of sound to make their rides perfect. The 6x9" speakers feature a responsive polypropylene cone and butyl rubber surround that'll stand up to hours of high-volume jams. Rockford Fosgate uses a new technique to attach the surround to the cone that yields up to 25% more cone area, for fuller sound and stronger performance. The dome tweeter provides clear, extended highs that can hold their own when the bass gets heavy.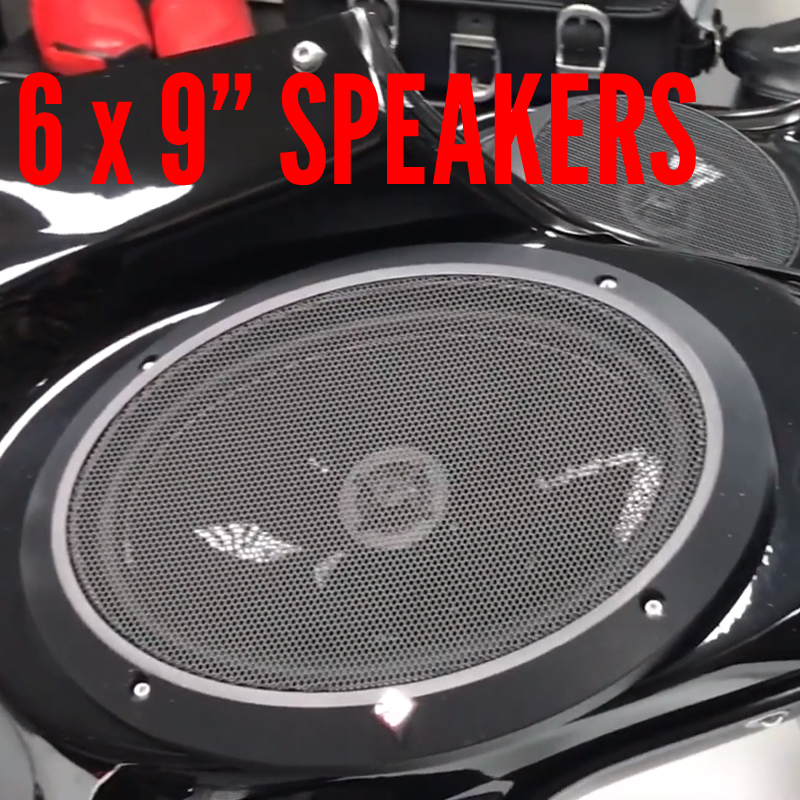 Product highlights:
2-way 6"x9" speakers (pair)
mineral-filled polypropylene woofer
butyl rubber surround
3/4" polyetherimide (PEI) dome tweeter
grilles included
Vertical Attach Surround Technique (VAST™) increases cone area
power range: 6-75 watts RMS (150 watts peak power)
frequency response: 60-22,000 Hz
sensitivity: 91 dB
top-mount depth: 3-1/16"
warranty: 1 year
Rockford Fosgate 6.5" P1650 Speakers + Rockford 5.25" P152 Speakers
A combination of Rockford Fosgate speakers featuring 2 x 6.5" speakers on the outsides of the fairing, and 2 x 5.25" speakers on the inside. This pairing features a combination of rich bass from the 6.5" speakers as well as crisp highs provided by the 5.25" speakers. The ultimate speaker pairing for the highest level of sound in the classic fairing.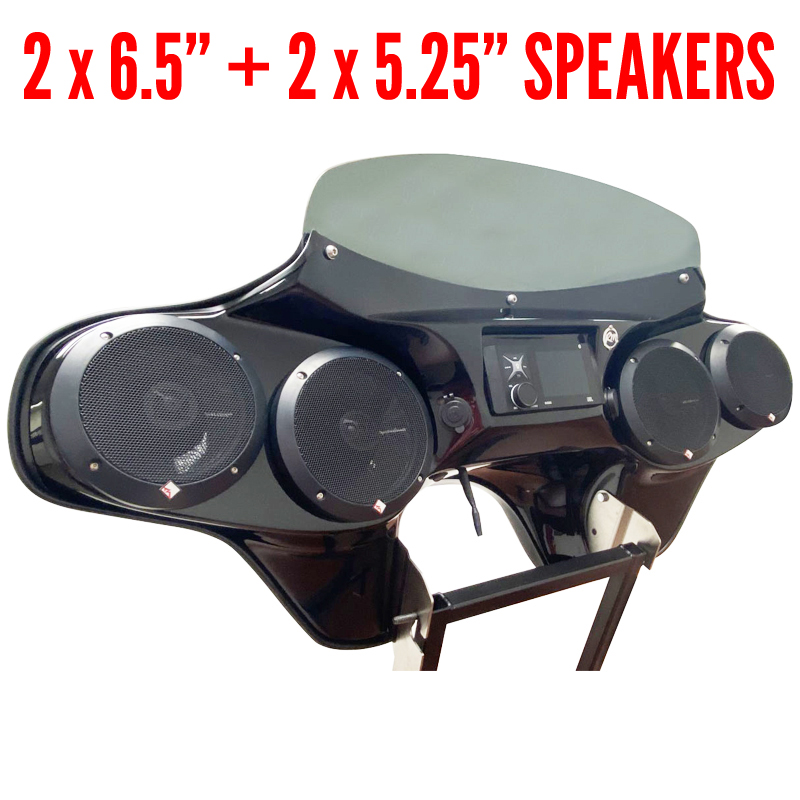 Rockford Fosgate M1 6.5" Color Optix™ Marine 2-Way Speakers
The M1-65 Color Optix™ 2-way 6.5" speakers deliver loud, clear, accurate sound, and light the way for your journey! The speakers connect with the Rockford Fosgate Color Optix™ Controller and RF Connect App, allowing you to customize your own color patterns. The Element Ready™ design and IPX6 certification makes them truly purpose-built for marine or motorsport applications where protection from damaging UV rays and water spray is essential.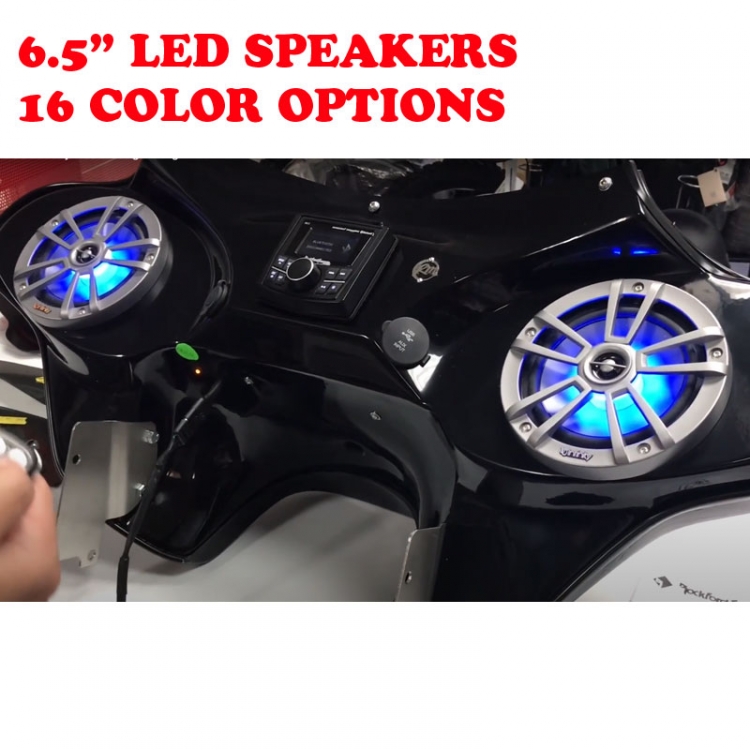 Midrange Size: (Nominal Diameter) 6.5"
Power Handling: (RMS) 75 Watts RMS
300 Watts Peak
Speaker Type: 2-way Coax
Nominal Impedance: (Ohms) 4-Ohm
Midrange Mounting Depth: 2.49" (63.18 mm)
Tweeter Size: 1" (25.4 mm)
Windshields
The fairing windshield will serve as additional protection against the wind and prevent wind buffeting from affecting a riders head.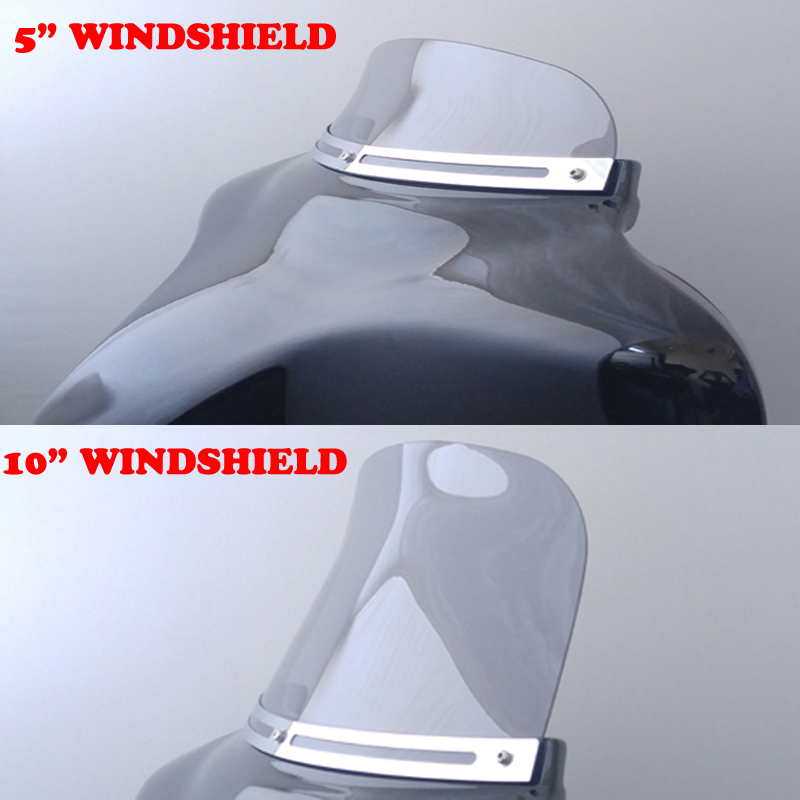 Windshields are offered in a clear or tinted finish in 5" or 10". The average rider will look over the 5" windshield, and through the 10" windshield. Various windshield sizes can be used on the fairing by easily removing the windshield from the fairing and replacing it with a new windshield. Windshields can be ordered separately to ensure the possibility of having any size or color. Taller windshields will provide riders with more protection from the wind, while shorter windshields provide a more sleek look to the motorcycle.

Fairing Front Look
The front of the batwing fairing is offered in two designs, the traditional smooth front look, or the simulated vent front look. Neither style will alter the performance of the fairing as they are only cosmetic additions. The smooth front look gives the appearance of a more classic fairing, while the simulated vent gives a more contemporary style seen less frequently. Please note that the vented front look is only cosmetic and does not provide a functioning air vent.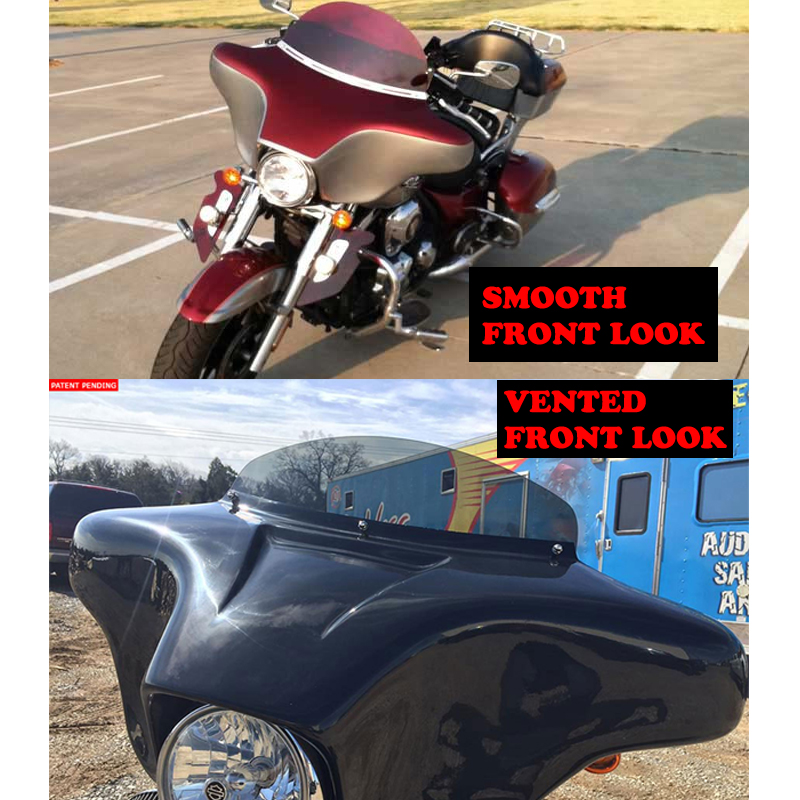 Amplifier
The Reckless Batwing fairing is offered with an optional Rockford Fosgate PBR400X4D amplifier to further enhance your listening experience. This amplifier is a full range 4-channel amplifier that is compact enough to come pre-installed inside of the fairing, but packs a punch with 400 Watts RMS power. The amplifier is recommended for riders who are often cruising at highway speeds with passengers or loud, aftermarket exhausts. Or, for those who are after a more powerful stereo system.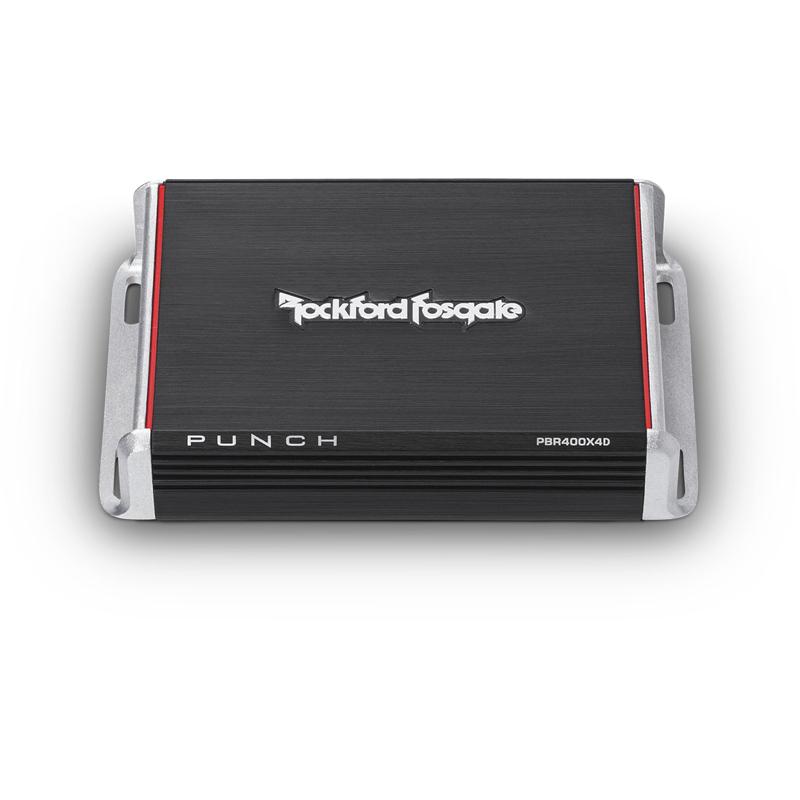 4-channel car amplifier
50 watts RMS x 4 at 4 ohms (100 watts RMS x 4 at 2 ohms)
200 watts RMS x 2 bridged at 4 ohms (4-ohm stable in bridged mode)
CTA-2006 compliant
Boosted Rail amp technology
C.L.E.A.N. gain setup system includes clip lights and link to Rockford Fosgate's setup tones
dimensions: 6-3/4"W x 1-9/16"H x 4-1/4"D
Handlebar Remote Control
The Bluetooth 4.0 Smartphone Ready Handlebar Mounted Remote Control quickly and easily pairs with your mobile device using a simple one-button pairing control. Once paired to your mobile device, control any Bluetooth equipped source unit with the remote, all while keeping your phone safe in your pocket. Functionality includes Skip Song/Previous Song/Pause/Play/Volume Up/Volume Down. The perfect solution for riders to control their music all from the convenience of their handlebars.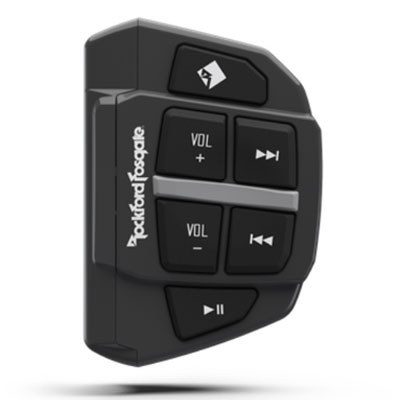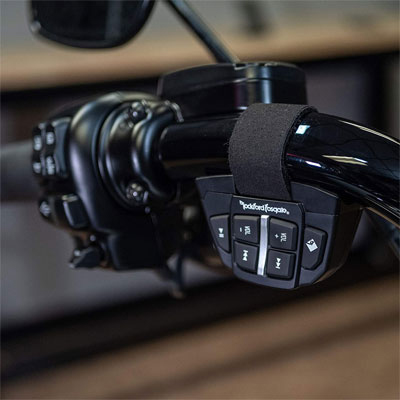 Our Bluetooth controller is made to pair with your phone/bluetooth device to control all bluetooth audio functions being transmitted directly from the phone/bluetooth device. The remote can also be paired directly to the Rockford Fosgate PMX-1 stereo to control all other non-bluetooth audio directly from the stereo including AM/FM radio. The Rockford Fosgate PMX 2 and PMX 3 cannot be paired directly to the handlebar control and will require the controller to be paired to your phone/bluetooth device to control only the bluetooth audio.
BLUETOOTH:
4.0 Smart Ready
Android 5.0+
Apple iOS 8.0+
Bluetooth Universal Remote
BLUETOOTH RANGE:
10 Meters (32 Feet)
POWER:
Battery Operated (1x CR2032)
1 Year Warranty
2.75" x 1-7/8" x 1-1/4"
(7 mm x 4.8 mm x 3.2 mm)
The windshield trim is an additional accessory offered for the batwing fairings which is meant to serve as a cosmetic addition to the front end of the fairing where the windshield insert is located.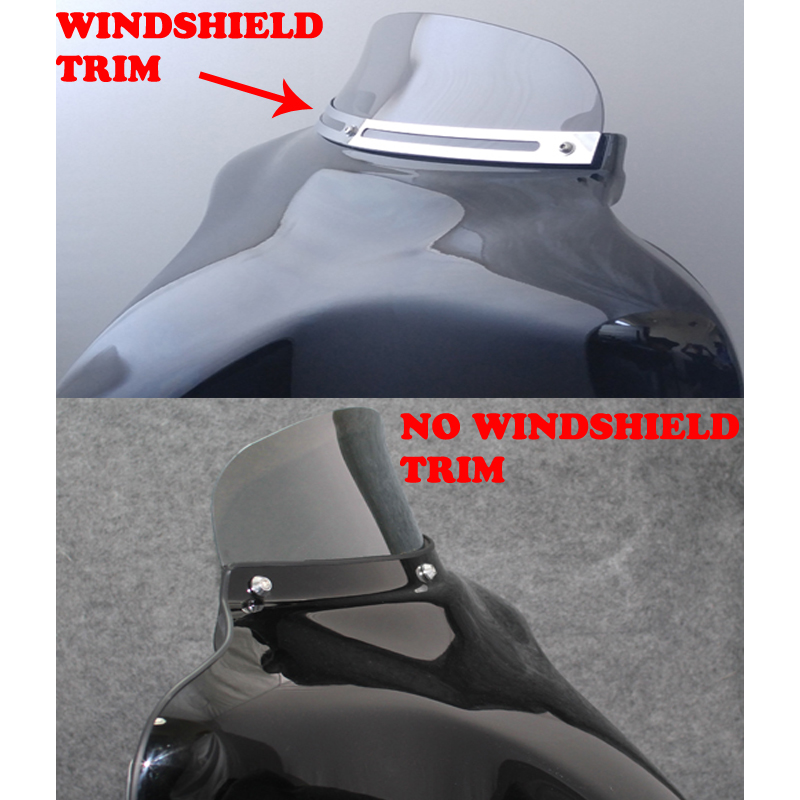 Storage Tri Pouch
The storage tri-pouch is an additional accessory meant to add additional storage to the fairing. This pouch will mount using the same bolts as the windshield.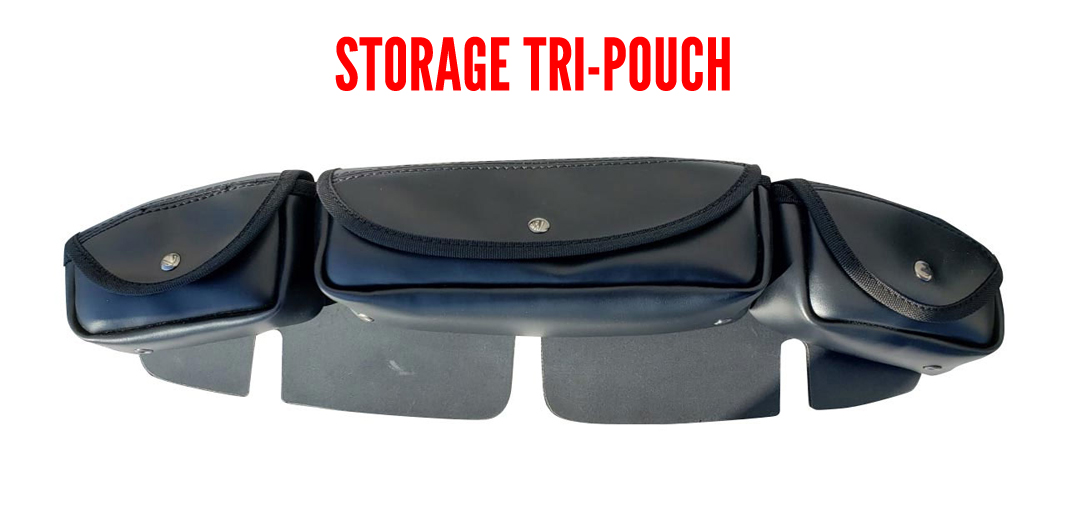 Adds convenient extra storage space to the inside of your batwing fairing

Three easily accessible individual storage pockets
Pockets large enough to accommodate items such as iPods, cell phones or any other gadgets you want at your fingertips
Constructed of PVC leather
Middle pocket measures 9-1/4" W x 2-3/4" H x 3" D
Quick and easy installation on your batwing fairing
Wind Deflectors
Wind deflectors are designed to protect a rider from wind buffeting and fatigue by protecting the lower half of the body with the bolt on deflectors made to integrate onto the lower half of the batwing fairing.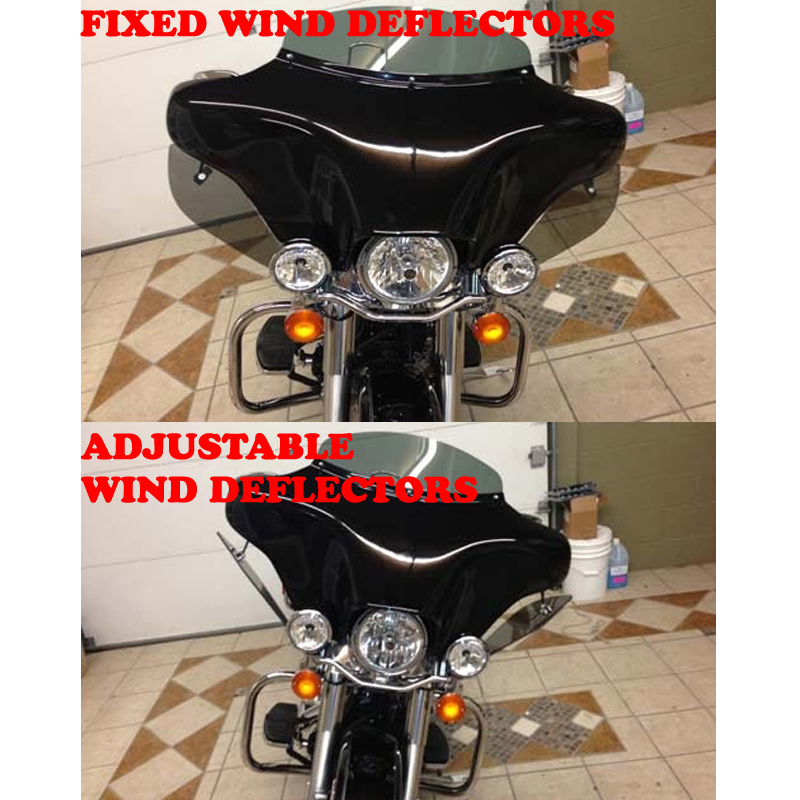 Optional Smartphone Holder With Fairing Mount
The Smartphone Holder is designed to be quick and simple, just flip the lever to lock your smartphone into the secure rubber molded fingers.
Intuitive ball mounting system allows for a broad range of angle adjustment
Fits devices from 2 1/8" to 3 1/2" wide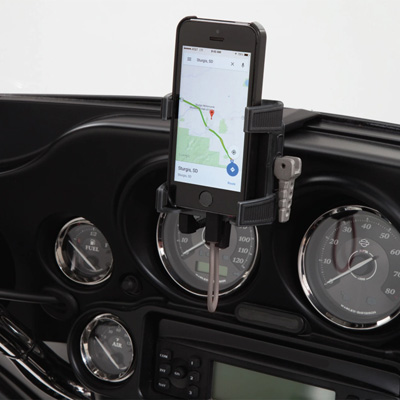 Klock Werks Flare Windshield
The Klock Werks flare windshield is an additional windshield which will be included with the fairing. This windshield has a flip towards the top which is meant to deflect additional wind at high speeds. This will further protect riders from wind buffeting.
Application Chart
Road King Models (94+)
OEM Windshield Mounts Required
Softail Deluxe Models (94+)
OEM Windshield Mounts Required
Heritage Softail Models (94+)
OEM Windshield Mounts Required
Freewheeler (94+)
OEM Windshield Mounts Required
Switchback (12+)
OEM Windshield Mounts Required
Fatboy/Fatboy Lo (94-17)
OEM Windshield Mounts Required
Softail Slim (11+)
OEM Windshield Mounts Required
VTX 1300 S/R Covered Forks (03-09)
Requires Covered Forks
VTX 1300 C Exposed Forks (01-09)
Requires Exposed Forks
VTX 1800 C/S/R (01-09) Exposed/Inverted Forks
Requires Exposed Forks
VTX 1800 C/S/R (01-09) Covered Forks
Requires Covered Forks
Honda Shadow 750 Ace Deluxe Covered Forks
If Tach/Speedo is located on handlebars relocation is required
Honda Shadow 1100 Sabre
All Hardware Included - If Tach/Speedo is on handlebars relocation is required
Nomad 1500 (99-04)
OEM Windshield Mounts Required
Nomad 1600 (05-08)
OEM Windshield Mounts Required
Nomad 1700 (09-Present)
OEM Windshield Mounts Required
Vulcan 1700 Classic & LT
OEM Windshield Mounts Required
Vulcan 900 Classic LT
OEM Windshield Mounts Required

Vulcan 1600 Classic (03-08)
Nomad 1600 Windshield Mounts Required
Vulcan 2000 Classic
OEM Windshield Mounts Required - (Not compatible with large headlight nacelle)
Vulcan 2000 Classic LT
OEM Windshield Mounts Required (Not compatible with large headlight nacelle)
Vulcan 1500 Classic FI
Will not fit Carb Version
Roadstar Silverado (99-14)
OEM Windshield Mounts Required - STR-5VN03-40-00

Stratoliner (Tri-Pouch Not Compatible)
OEM STR-2C503-40-00 Windshield Mounts Required - Fairing Only
Available in 4x5.25" Speakers and Smooth Front
V-Star 650 Classic
Requires pu2321-0072 (This will be included) (+$149)
V-Star 1100 Classic
Requires pu2321-0072 (This will be included) (+$149)
V-Star 1300 Classic (Tri-Pouch Not Compatible)

Requires original Yamaha TOURER windshield mounts (sold separately)



Royal Star (94-00)
OEM Windshield Mounts Required
Royal Star (04+)
OEM Windshield Mounts Required
Stryker
Requires (P/N MEM9953) (This will be included)
C90
C90 Light Bar Required
C90 Boss
All Hardware Included
C90 T
All Hardware Included
C50
OEM Windshield Mounts Required from C50T
Suzuki Intruder 1500 LC (98-04)
OEM Windshield Mounts Required
Rocket 3 Touring
OEM Windshield Mounts Required

---