Reckless Motorcycles Joker Batwing Fairing, the upgraded version of our classic Reckless fairing. The Joker fairing takes the
comfort and style we know and love from our classic fairings and adds an upgraded audio system which will be sure to have your neighbors turning their heads.
Made in the USA, the Joker fairing is complete with a hand laid fiberglass construction, upgraded preinstalled stereo system, personalized windshield, and complete mounting hardware. Everything you need to get started in one package.
Includes:
Hand laid Fiberglass Batwing Fairing
Detachable Outer and Inner Fairing
Rockford Bluetooth Unit: PMX-2

4 Rockford Speakers: 2 x 6.5" + 2 x 5.25"
400W Amplifier - 4 Channels

Fairing Arrives in Black Gelcoat
Mounting Hardware Included
Acrylic Windshield: Clear or Tinted 5"/ 10"
Radio Antenna: AM / FM Radio
Bluetooth / Radio / USB Port / AUX
Vented Front Look
Wind and Weather Protection
Fiberglass Construction - 20 lbs
Wiring Harness for Power
Water-Proof Stereo Face
12v Power Plug
Double Rubber Sealed Edges
Reduced Wind Buffeting and Road Noise
Excellent Fiberglass Workmanship
5 Year Warranty on Fairing
1 Year Warranty on Electronics
Fully Assembled with Mounting Instructions
Made in the USA
Your Choice of Windscreen
5" (Clear / Smoked)
10" (Clear/Smoked)
Additional Accessories
Handlebar Remote Control
Windshield Trim
Storage Pouch
Fixed/Adjustable Wind Deflectors
Smartphone Holder
Klock Werks Flare Windshield
Stereo
Rockford Bluetooth Unit PMX-2: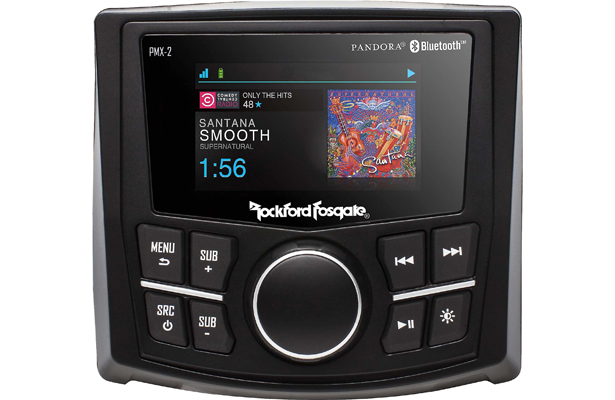 The PMX-2 is an AM/FM/WP tuner and compact digital media receiver with a 2.7" full color display.
The PMX-2 compact digital media receiver is designed for marine and motorsports applications.
The PMX-2 features a 2.7"full color TFT display for optimum viewing - even in full sun - that is optically wet bonded to prevent any dust or moisture penetration. It is IPX6 rated and uses a water resistant rotary encoder knob with white LED button illumination and front mounted sub level controls. Additionally, with features such Pandora control capabilities and Bluetooth audio streaming with album art support this unit becomes a true command center of any system.
Output flexibility comes with a 4x50W @ 2ohm internal amplifier or front and rear/sub output RCA's allowing the addition of after-market amplifiers for more power and output. Add-in the EEPROM memory system, custom GUI interface, and wired remote expansion capabilities and you have the only media receiver you'll ever need.
Features:
ISO8846/SAE J1171 Ignition Protection Certified

Pandora Internet Radio

A2DP and AVRCP Bluetooth Wireless Streaming

FCC, CE, IC, and C-Tick Certified

Multi Region Radio Frequencies

Low Voltage Warning Alert

AUX and USB Inputs with USB Charging

On Board Punch EQ Control

iPod playback with on-screen display

Independent Subwoofer Level Control

Selectable HP / LP / AP Crossovers with Selectable Slope 12 / 24 dB/Oct

IPX6 Marine Grade

7-Band Graphic EQ

2.7" full color display w/ auto dimming backlighting

AM / FM / WB Tuner

Zone Control: 1 Zone / 1 Source (F/R or Sub)
1 Year Warranty
Speakers
Rockford Fosgate 6.5" P1650 Speakers + Rockford 5.25" P152 Speakers
A combination of Rockford Fosgate speakers featuring 2 x 6.5" speakers on the outsides of the fairing, and 2 x 5.25" speakers on the inside. This pairing features a combination of rich bass from the 6.5" speakers as well as crisp highs provided by the 5.25" speakers. The ultimate speaker pairing for some of the highest levels of sound in any batwing fairing.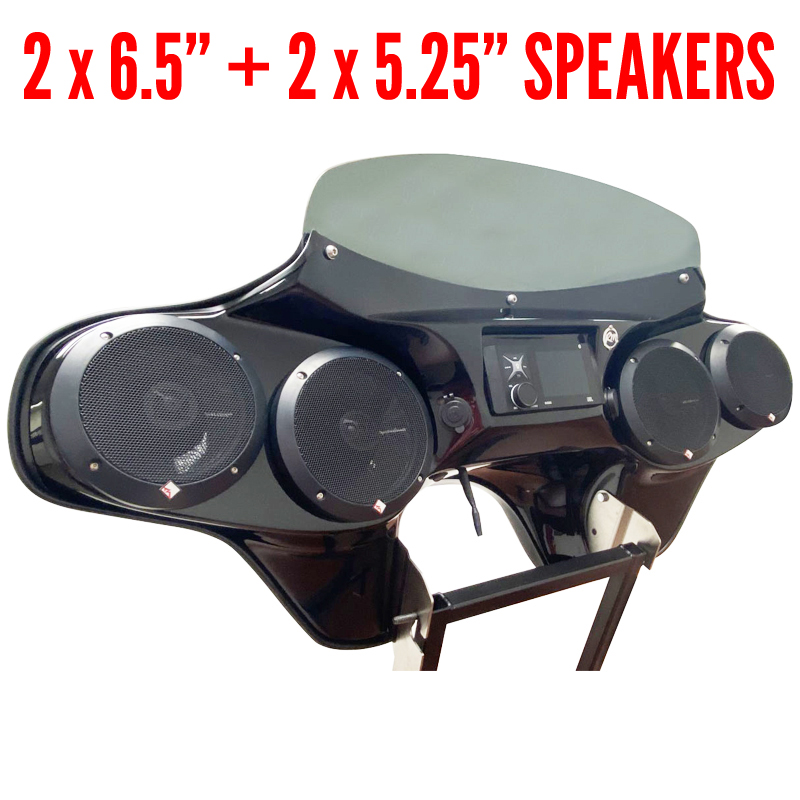 The fairing windshield will serve as additional protection against the wind and prevent wind buffeting from affecting a riders head.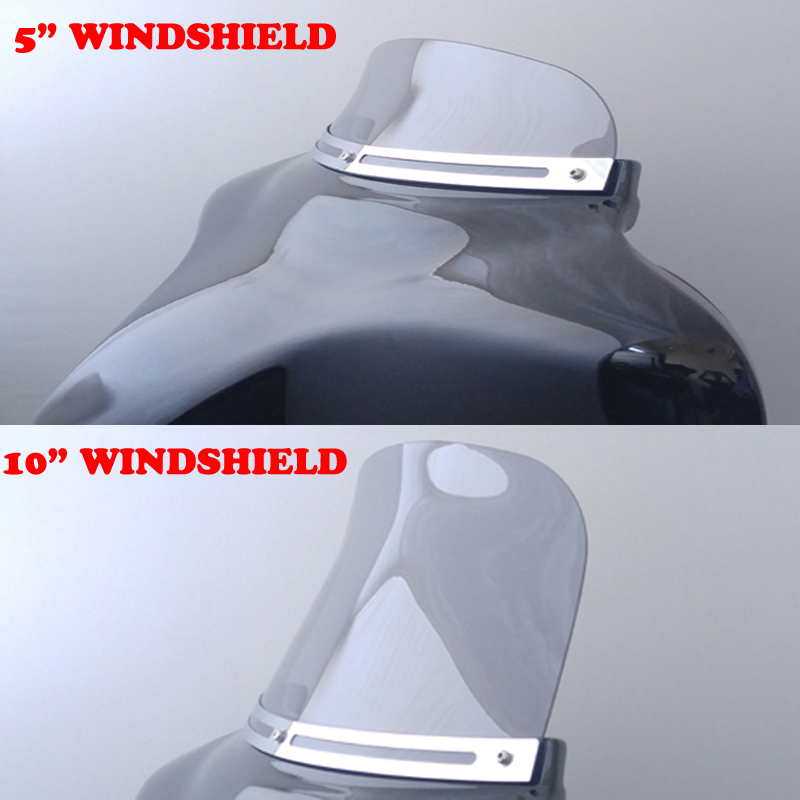 Windshields are offered in a clear or tinted finish in 5" or 10". The average rider will look over the 5" windshield, and through the 10" windshield. Various windshield sizes can be used on the fairing by easily removing the windshield from the fairing and replacing it with a new windshield. Windshields can be ordered separately to ensure the possibility of having any size or color. Taller windshields will provide riders with more protection from the wind, while shorter windshields provide a more sleek look to the motorcycle.
Amplifier
The Reckless Joker fairing includes the Rockford Fosgate PBR400X4D amplifier to further enhance your listening experience. This amplifier is a full range 4-channel amplifier that is compact enough to come pre-installed inside of the fairing, but packs a punch with 400 Watts RMS power.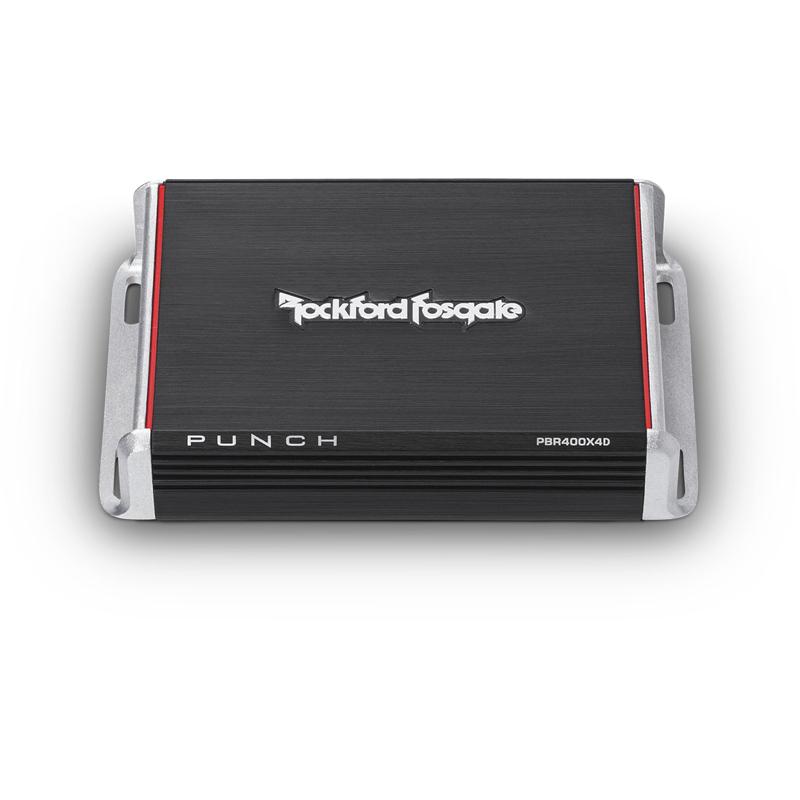 4-channel amplifier
50 watts RMS x 4 at 4 ohms (100 watts RMS x 4 at 2 ohms)
200 watts RMS x 2 bridged at 4 ohms (4-ohm stable in bridged mode)
CTA-2006 compliant
Boosted Rail amp technology
C.L.E.A.N. gain setup system includes clip lights and link to Rockford Fosgate's setup tones
dimensions: 6-3/4"W x 1-9/16"H x 4-1/4"D
Handlebar Remote Control
The Bluetooth 4.0 Smartphone Ready Handlebar Mounted Remote Control quickly and easily pairs with your mobile device using a simple one-button pairing control. Once paired to your mobile device, control any Bluetooth equipped source unit with the remote, all while keeping your phone safe in your pocket. Functionality includes Skip Song/Previous Song/Pause/Play/Volume Up/Volume Down. The perfect solution for riders to control their music all from the convenience of their handlebars.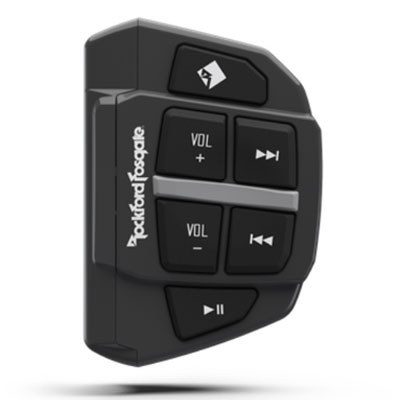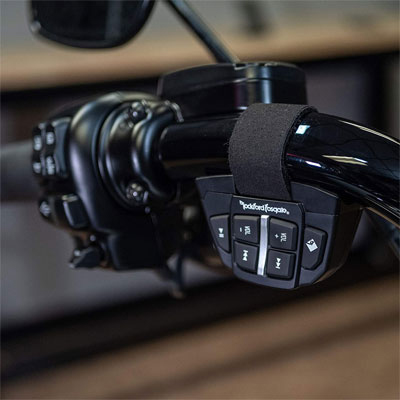 Our Bluetooth controller is made to pair with your phone/bluetooth device to control all bluetooth audio functions being transmitted directly from the phone/bluetooth device. The remote can also be paired directly to the Rockford Fosgate PMX-1 stereo to control all other non-bluetooth audio directly from the stereo including AM/FM radio. The Rockford Fosgate PMX 2 and PMX 3 cannot be paired directly to the handlebar control and will require the controller to be paired to your phone/bluetooth device to control only the bluetooth audio.
BLUETOOTH:
4.0 Smart Ready
Android 5.0+
Apple iOS 8.0+
Bluetooth Universal Remote
BLUETOOTH RANGE:
10 Meters (32 Feet)
POWER:
Battery Operated (1x CR2032)
1 Year Warranty
2.75" x 1-7/8" x 1-1/4"
(7 mm x 4.8 mm x 3.2 mm)
Windshield Trim
The windshield trim is an additional accessory offered for the batwing fairings which is meant to serve as a cosmetic addition to the front end of the fairing where the windshield insert is located.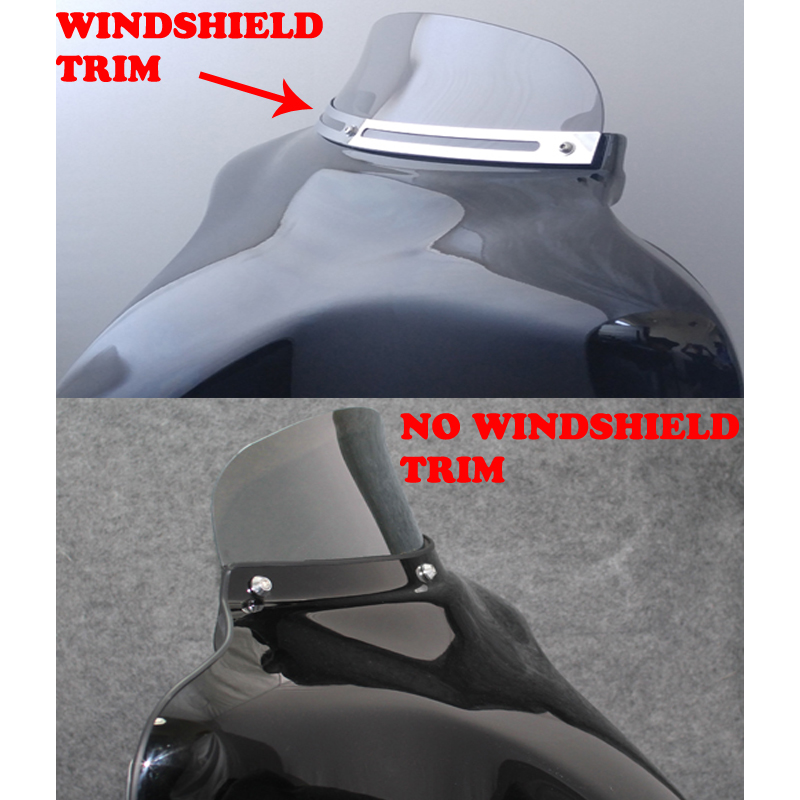 Storage Tri Pouch
The storage tri-pouch is an additional accessory meant to add additional storage to the fairing. This pouch will mount using the same bolts as the windshield.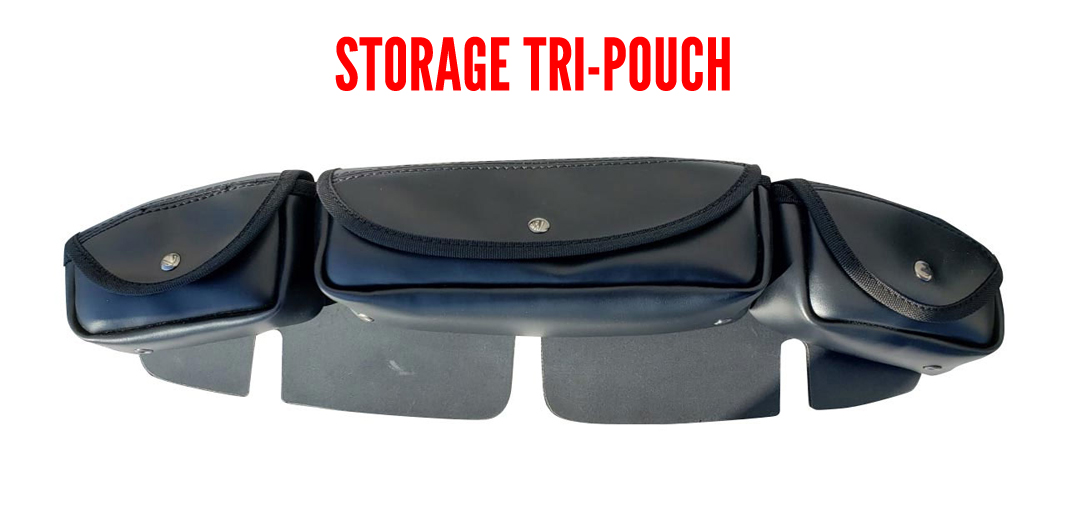 Adds convenient extra storage space to the inside of your batwing fairing

Three easily accessible individual storage pockets
Pockets large enough to accommodate items such as iPods, cell phones or any other gadgets you want at your fingertips
Constructed of PVC leather
Middle pocket measures 9-1/4" W x 2-3/4" H x 3" D
Quick and easy installation on your batwing fairing
Wind Deflectors
Wind deflectors are designed to protect a rider from wind buffeting and fatigue by protecting the lower half of the body with the bolt on deflectors made to integrate onto the lower half of the batwing fairing.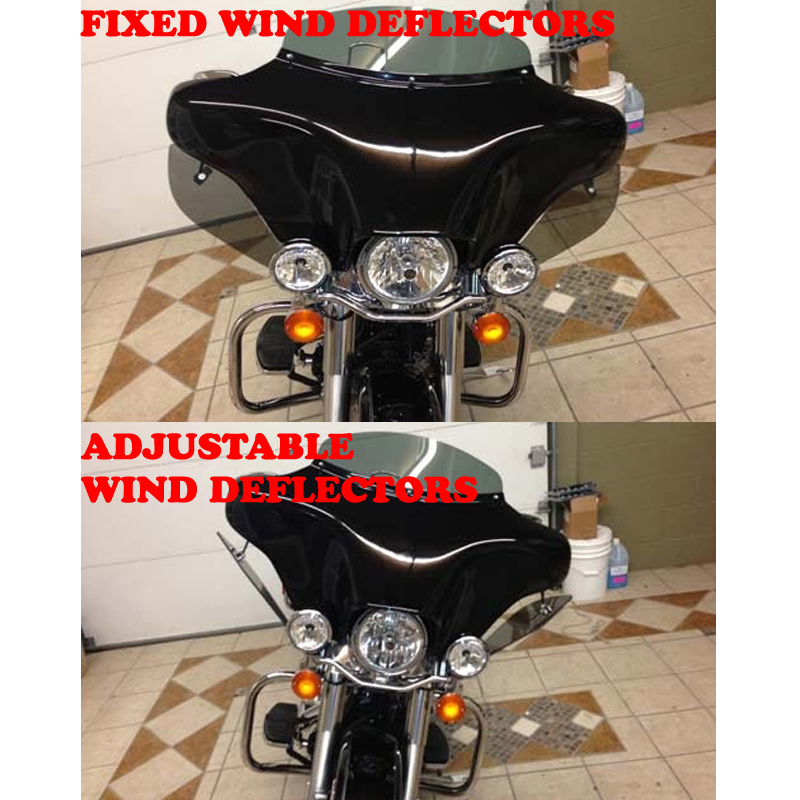 Optional RAM Smartphone Holder
Spring-loaded holder features adjustable side supports that provide a secure fit for a variety of large phones and other devices; easily insert and remove your phone with one hand


Includes U-bolt base that accommodates rails from .5" to 1.25" in diameter and a short length, B size RAM® double socket arm; ball and socket technology allows for near-infinite adjustability

Made of powder-coated, marine-grade aluminum and high-strength composite for durability and reliability in the most demanding environments

Backed by a lifetime warranty

CLAMP RANGE: .5" - 1.25" diameter

SOCKET TO SOCKET LENGTH: 1.75"

Height Range: 5.75" - 7.25"

Width Range: 2.625" - 3.625"

Max Depth: .72"
Optional RAM Smartphone Holder w/ Charger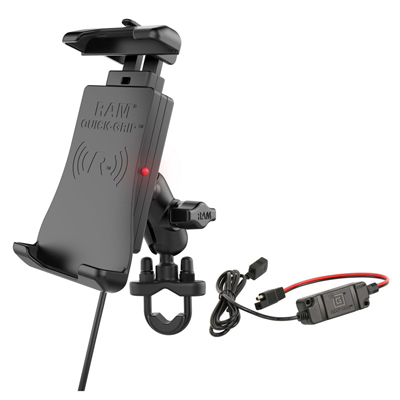 Klock Werks Flare Windshield
The Klock Werks flare windshield is an additional windshield which will be included with the fairing. This windshield has a flip towards the top which is meant to deflect additional wind at high speeds. This will further protect riders from wind buffeting.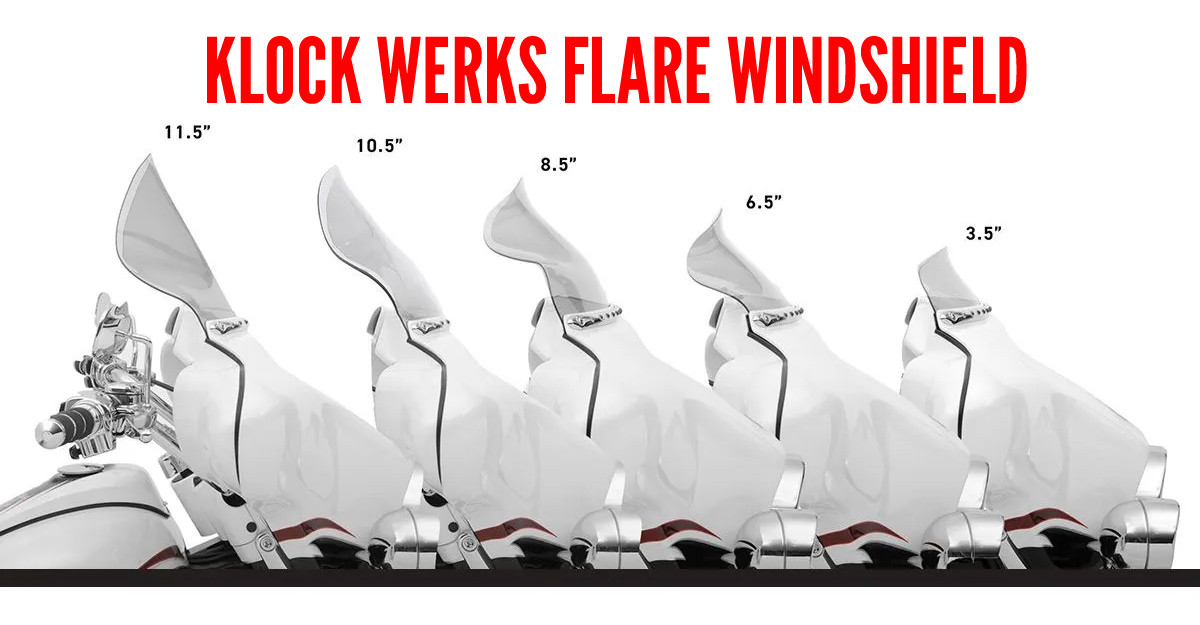 ---