TKY's Fat Bob Batwing Fairing with 6" x 9" Waterproof Speakers and Nakamichi Stereo is made specifically for Harley-Davidson Dyna Fat Bob (2007-2017).
This Fat Bob Fairing specifically fits on the Fat Bob with stock 2 headlights, it gives your bike an unique and exclusive look, and features superior and powerful bass. It has more room inside the fairing which creates stronger bass from the 6x9 speakers. The fairing comes with powerful Nakamichi stereo and a pair of water proof 6"x9" speakers with 20 oz magnet each, definitely it will bring you the sound you are pursuing for your ride.
Includes
Hand-Laid Fiberglass Batwing Fairing: Detachable Outer and Inner Fairing
2 x 6x9" TKY WaterProof Speakers:150W RMS / 350W Peak Power (Preinstalled)
Choices of Finish: 2K Primer (Ready to Paint-Grey Finish), Black Gel Coat, Gloss Black Painted
Reliable Mounting System: Direct bolt on mechanism, durable, mirror-polished, and corrosion-free stainless steel brackets + clamps
Acrylic Windshield: Clear or Tinted 5"/ 8"
Radio Antenna: AM / FM Radio (Preinstalled Inside Fairing)
CD Player / Radio / USB Port / AUX
Wiring Harness for Power (Preinstalled)
Water Proof Stereo Housing: Cover to Protect the Stereo (Preinstalled)
12v Power Plug to power cigarette lighter, charge phone, etc (Preinstalled)
Wind and Weather Protection - Make long trips easy with integrated weather protection provided by the fairing and the windshield
Double Rubber Sealed Edges - Double seals between the outer and inner fairing make for a noise free and quiet ride
Excellent Quality - Quality handlaid fiberglass construction rather than ABS plastics
AUX Cable
6 Month Manufacturer Warranty
Nakamichi NA201 CD player:
MAX Sound for instant power boost
Music Zone for adjustable sweet spots
Dynamic Bass Boost electronically enhances the low tones
2-band parametric equalizer with 8 presets
Super anti-shock protection (ESP) for smooth music enjoyment (10-12 seconds)
Four Channel Outputs for excellent sound quality - 50 Watt each, 200Watts in total
USB Direct slot for MP3/WMA playback and 1A charger for Smartphones
Enjoy seamless music from CD. With ESP, no CD skipping anymore
MP3 Link for portable music playback
with radio function, USB and AUX interface
Browse by folder or song for instant search or quick access
Audio output for amplifier addition
Diffused indicating light for easy CD insertion
High contrast LCD for perfect viewing
Detachable front panel and blackout for anti-theft security
Product dimensions (W x H x L): 177 x 50 x 180 mm; Classic 1 din
Remote control: Slim remote with battery
TKY's 6"x9" waterproof Speakers:
3-Way 6"x9" Waterproof Speakers
Powerful and Excellent sound quality
150W RMS / 350W Peak power each
20 oz strong Magnet each
Waterproof speakers give longer life and excellent performance in outdoor and wet marine environment. Sealed drivers and waterproof cones can withstand a hosing down of rain.
The Set Includes:
Mounting brackets and other miscellaneous hardware
choice of one flat windshield: clear 5"/ 8"
2GB USB Memory Stick
12 Volt Plug (pre-installed)
AUX cable
Electronic Shock Protection, anti-vibration, non-rigid mounted Nakamichi NA201 200W CD Player with Stereo Housing preinstalled
preinstalled 6" x 9" waterproof speakers
preinstalled build-in Radio antenna (inside the fairing)
preinstalled wiring harness and connectors
fiberglass, detachable outer and inner fairing
Optional Feature 1:- TKY's Bluetooth Handlebar Remote Control v4.0

New upgraded version 4.0 has the following improvement:
clear sound, with new Bluetooth IC used in the design. Very low noise.
More water proof. The handle button is treated with water sealing material.
Lighter in weight , aluminum our shell is not used anymore.
Button cap is glued firmly and will not fall off.
works with any music player with stereo bluetooth fuction, like iphone (including iphone 6, ipad, samsung galaxies, etc)
or works with any devices with headphone output (Limited function)
It comes with handlebar remote control which allows you to adjust volume, select songs and play/ pause on your motorcycles handle bar
It will be preinstalled if ordering together with the fairing.
Optional Smartphone Holder With Fairing Mount
The Smartphone Holder is designed to be quick and simple, just flip the lever to lock your smart phone into the secure rubber molded fingers.
Intuitive ball mounting system allows for a broad range of angle adjustment
Fits devices from 2 1/8" to 3 1/2" wide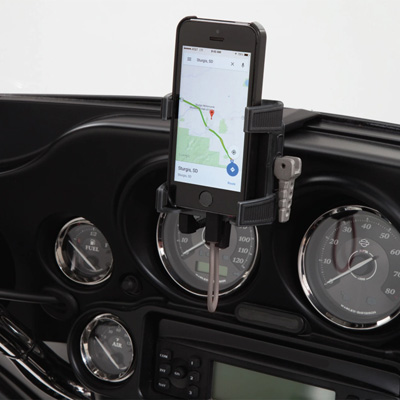 Note: TKY Fairings and Saddlebags are custom made to order. Please allow 1-3 weeks to ship
---