TKY's Quick Release Strong Hardbags, 26 Liter Each are made specifically for the bikes listed below.
Strong Hard Saddlebags easily fit on most Metric Cruisers and Touring Motorcycles (including Harley-Davidson, Victory, Triumph, Honda, Yamaha, Kawasaki, Suzuki and more listed at the bottom). Perfectly follows the contour of your motorcycle fender, they are the best choice for customizing your ride with quality Hardbags at affordable prices.
26 Liters of Storage Capacity for each side of Hardbags, It come chrome plated lockable latches, alloy front hinges and all Mounting Hardware you needed for installation.
TKY's Quick Release Mounting System: These quick release mounting brackets are made of very strong, thick, chrome quality stainless steel. They are impossible to be bended in normal use, are the main element in TKY mounting system. Free of vibration, life-long durability. This quick release mounting system works on hard saddlebags for VTX and M109R currently. With these mounting brackets, you may remove the bags in just 2-3 seconds. Your hardbags will be pre-drilled mounting holes and stick very close to your fender. All mounting brackets, bolts and metal washers are made of chrome quality stainless steel, they are very durable, very strong and reliable. This quick release mounting system fit very closely to your fender. For more information about Quick Release Mounting System please see installation directions below.
Options of finishing for Strong hardbags are :
ABS version: Ready To Paint
ABS version: Gloss Black Painted
Fiberglass version: ready to paint
Fiberglass version: Gloss Black Painted
Difference between Fiberglass and ABS version:
ABS version: Super thick industrial grade ABS material. The bottom is 3/8" thick, the lid is 5/32" thick, guarantee as strong as fiberglass version
Fiberglass version: installation face is 6mm thick, other faces is 4mm thick.
ABS version: Smooth finishing inside and outside. Carpet lined is used at the bottom
Fiberglass version: Carpet lined
ABS version: Precision injection molded lids
Front opening for both ABS and fiberglass version
They are the same in size and shape
Protect your staff from bouncing inside the bags:
Same Hinges and Locks: Quality chrome plated front hinges and lockable latches, with keys. Hinge area is shorter at the front, more leg room for the passenger.
Same sealing: Water resist with double seals
Same Fitment: Fit very close to motorcycle fender
Includes:
All Quick Release mounting hardware included
No Drilling is needed. Bike specific version is pre-drilled version to fit specific bikes, You don't need to go through all the installation procedures.
Fit with stock pipes only, and will be positioned very close to the stock pipes (less than 1" spacing)
If you are using aftermarket pipes and want the bags installed close to the pipes, please order non-bike specific version.
If your bike model doesn't list in above drop down list, that means quick release hardbags kit is not available for your bike yet. Please order non-bike specific version and fill in your bike model.
Dimension: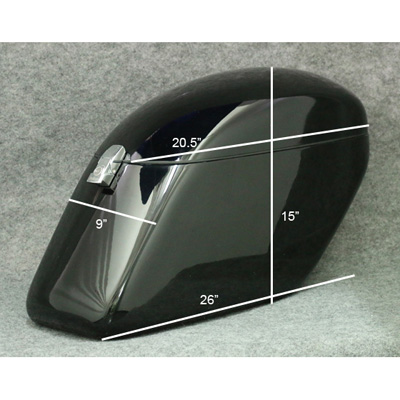 Bottom Length: 26"
Top Length: 20.5"
Width: 9"
Height: 15"
Fits:
Honda Shadow Aero 750 up to 2007(*)
Yamaha XV1900 Roadliner/S
Yamaha Roadliner Midnight
Yamaha XV1900 Stratoliner/S/Deluxe
Yamaha V-Star 950
Yamaha V-Star 1300
Kawasaki VN900 Classic/ Custom* / Classic LT
Kawasaki VN2000 Classic/ Classic LT/ VN2000



Note: Stock signals should be relocated for bikes with (*), you are suggested to order HardBags with LED Turn Signals for those bike with (*). "Strong" saddlebags fit with backrest. If you are using backrest which attached to the fender struts, longer mounting bolts maybe necessary.
Note: TKY Fairings and Saddlebags are custom made to order. Please allow 1-3 weeks to ship
---
Connect with our Team


Questions?

Call or WhatsApp: 786-242-5400 📞