TKY's Short Strong Hardbags Universal Kit, 21 Liter Each for the bikes listed below.
Short Strong Hard Saddlebags easily fit on most Cruisers and Touring Motorcycles (including Harley-Davidson, Victory, Triumph, Honda, Yamaha, Kawasaki, Suzuki and more). They are preferred for bikes with double pipes on one side like Roadstar, Vstar, etc, and perfectly follow the contour of your motorcycle fender. They are the best choice for customizing your ride with quality Hardbags at affordable prices. 21 Liters of Storage Capacity for each side of Hardbags, Come Carpet Lined, upgraded latches, lockable, and all Mounting Hardware you needed for installation.
TKY's Universal Mounting System: Mounting brackets are made of very strong, thick, quality stainless steel. They are impossible to be bent in normal use, are the main element in TKY mounting system. Free of vibration, life-long durability. With our mounting brackets, you may install your hardbags wherever you want them to be. Your hardbags will stick very close to your fender and you may install them to a very low position, even just above the pipe!! All mounting brackets, bolts and metal washers are made of quality stainless steel, they are very durable, very strong and reliable.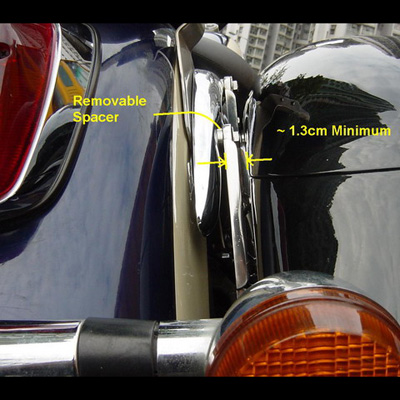 TKY's mounting system is that they fit very closely to your fender, comparison with mounting system of other leading brand.
Different brackets will be provided for different bikes: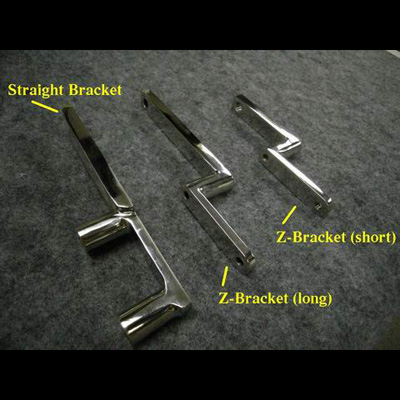 Cast Stainless Steel mounting brackets, much stronger than iron or aluminium.
New Designed Z-bracket(long) (NEW!) and Z-bracket(short) (NEW!) for Harley Davidson Softail, Dyna, RoadStar, Roadliner, VTX, etc, and all other bike with belt guard. Suitable brackets will be provided specific for different bikes.
Note: If you got 2 Long Z brackets and 2 short Z brackets in your order, the SHORT one should be mounted to the front; the LONG one should be mounted to the rear
Bike-specific spacers and stainless steel mounting bolts will also be included (Note: the mounting bolts we provided are for stock bike without backrest only)
Options of finishing for Short Strong hardbags are :
ABS version: Ready To Paint
ABS version: Gloss Black Painted
Features :
ABS version: Super thick industrial grade ABS material. The bottom is 3/8" thick, the lid is 5/32" thick, guarantee as strong as fiberglass version
Quality Chrome Latch Locks with keys
Protect your staff from bouncing inside the bags: Smooth finishing inside and outside. Carpet lined is used at the bottom
Precision injection molded lids
Shorter at the front, more leg room for the passenger.
Quality Chrome Plated Hinges
Double Seals for Weather Proof
Fit Close To Motorcycle Fender
Includes:
Universal mounting hardware included
You may install the bags wherever they want them to be, fit with aftermarket pipes, the bags will come with no mounting holes.

Dimension :

Bottom Length: 26"
Top Length: 20.5"
Width: 9"
Height: 12"

Fits Honda:

VTX 1300/1800 C /R* /S* /N* /F*/ T*
VT1100/ 750/ 400 Shadow ACE
VT600*/ 400* Shadow VLX
Shadow Spirit*
Shadow Slasher*
Shadow Sabre
Shadow Aero*
Valkyrie
Magna*


Fits Yamaha:

V-Star 950
V-Star 650/ 1100 Classic/
Custom*/ Silverado
V-Star 1300
XV 1900 Midnight Star
Road Star (Not include Warrior, long spacers provided)
Royal-Star
Roadliner (long spacers provided)
Wild Star (long spacers provided)
Stratoliner (long spacers provided)


Fits Kawasaki:

Vulcan 800*/ 800 Classic*
Vulcan 900 Classic/ Custom*/ LT
Vulcan 1500 Classic/ Fi
Vulcan 1600 Classic
Vulcan 1700 Classic/ LT
Vulcan 1500/ 1600/ 1700
Nomad
Vulcan 2000/ 2000 Classic/
2000 Classic LT/ 2000 Limited


Fits Suzuki:

Boulevard C50/ C50T/
C90/ C90T
Boulevard C109R/ C109RT/
C1800R
Marauder 800/ 1600*
Intruder 1500LC (C90)
Intruder Volusia 800
Intruder C1800R
Boulevar M50*
Boulevard S40*
M109R / M109R Limited edition / M109R Boss / M1800R


Fits Victory:

Kingpin
Kingpin 8 Ball/ Tour/ Low
Vegas
Vegas 8 Ball/ Low
Judge
Boardwalk
Gunner High Ball
Hammer
V92*/ V92T Touring Cruiser*
Cross Roads


Fits Triumph:

Speedmaster
Bonneville America
America/ America LT
Rocket X
Thunderbird
Rocket III*


Fits Harley-Davidson:

FLSTF/FLSTFI Fat Boy*
FLSTC/FLSTCI Heritage Softail Classic
FLSTFSE Screamin' Eagle Fat Boy*
FXD Dyna Super Glide*
FXDX Dyna Super Glide Sport*
FXDC/FXDCI Dyna Super Glide Custom*
FXDWG Dyna Wide Glide*
FXDL Dyna Low Rider*
FXDB/FXDBI Dyna Street Bob*
FXDF Dyna Fat Bob*
FLSTSC Softail Springer Classic*
FLSTN/FLSTNI Softail Deluxe
FXST Softail Standard*
FXSTC Softail Custom*
FXSTB Night Train*
FLSTSB Softail Cross Bones*
FLS Softail Slim*


Fits Ridley:

Auto-Glide Limited Edition*
Auto-Glide Standard*
Auto-Glide Classic*
Auto-Glide TT*
Auto-Glide Sport*



Note : Stock signals should be relocated for bikes with (*). "Short Strong" saddlebags fit with backrest. If you are using backrest which attached to the fender struts, just longer mounting bolts are needed.
Note: TKY Fairings and Saddlebags are custom made to order. Please allow 1-3 weeks to ship
---
Connect with our Team


Questions?

Call or WhatsApp: 786-242-5400 📞