D&D's 556Z-31
Boss Fat Cat 2:1 Exhaust, Black
is made specifically for Harley-Davidson Touring (2009-2016).
Features:
2:1 Boss Fat Cat is a stepped header system at the head 1 5/8" to 1 3/4" to 1 7/8" at collector and and 2 1/2" where the muffler goes to the header.
All Boss Fat Cat full systems a equipped with heat shields, exhaust gaskets, bolt kit and a baffle.
Each exhaust system is designed and dyno tested at our facilities. All of our testing is done with that Harley SE Race Tuner.
Every exhaust is designed to increase low-end torque and horsepower.
Performance increases are about up to 15% with the proper tune on the bike.
The Louvered wrapped baffle is the quitest baffle for motors 96" to 103"
The Perforated baffle is the very very loud baffle for motors 96" to 113"

Perforated Baffle - Loudest

Perforated Wrapped Baffle - Louder

Louvered Wrapped Baffle - Least Loud
Options for Muffler Cut: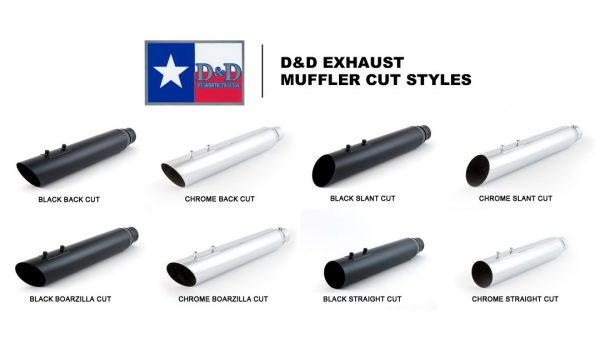 Back Cut

Slant Cut

Straight Cut
Notes:
When using Woods Cams the best baffle to use is either of the Perforated Baffles.
The Boss Fat Cat's starting in May 2014 comes with both 12mm and 18mm 02 bungs to fit bikes 2009-2015. The new part # has a Z in it for both size 02 bungs.
Slant Cut Muffler work best on the CVO extended bag models.
At idle, the motorbike is deep, boomy and full of character. Not only does the pipe look good, it is a wonderfully sounding experience for the rider.
Blueing and Discoloration are caused by Improper Tuning and will not be covered under Warranty.
D&D Performance Exhaust Systems as designed for close course racing applications only. Not for use on pollution controlled vehicles.
Note: Does not meet CARB (California Air Resources Board) emissions standards. For "Competition" use only
---
Connect with our Team


Questions?

Call or WhatsApp: 786-242-5400 📞