Corbin's HD-FXDWG-10-DT
Dual Touring Seat no Heat
is made specifically for Harley-Davidson Dyna Wide-Glide (2010-2017).
Features:
Measurements: Rider Seating: 13.5" wide x 14.5" long

Back support w/ backrest: 15"

Back support w/o backrest: 5"

Passenger: 12" wide x 12" long

Back support w/ backrest: 9"

Dual Touring saddle for Harley-Davidson Dyna Wide-Glide.
Installation: The Corbin Dual Touring Saddle installs on your bike like stock using a tongue in the front and a single screw into your fender at the rear. Seat heater assembly comes preinstalled on the saddle and ready to go. We supply the wiring pigtail and adapter to connect the seat directly into your stock Harley fusebox.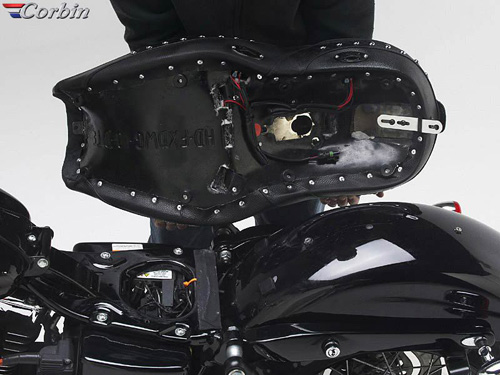 Corbin saddles (with very few exceptions) include Genuine Leather Seating to provide a luxurious look and feel.
This is the Heated version, find the no Heat version from HERE.
Designed specially for the 2010 Dyna WIDE-Glide models. Insist on a geniune Corbin saddle to improve the comfort, feel and looks of your new Harley. Our Dual Touring saddle is just what you need to maximize the long range capabilities of your bike with enhanced comfort for two. Our ergonomically shaped seating gives you massive support for the long haul. The only reason you'll find for stopping is the need for fuel.
Designed to work with a Corbin backrest in the rider and/or passenger seating positions. Corbin backrests are supported by internal hardware for a very clean look and simple, one-bolt installation. You can order a single backrest and transfer it front to back as needed or get two for full time use. Backrest angle adjusts to provide a personalized fit to rider posture in both positions. In the front position, our special hardware allows positioning of the backrest fore & aft for riders of different stature. This special hardware also features a fold down action to ease mounting the bike. With backrest installed, the rider bucket offers 15 inches of vertical support!
In the images above, we show Corbin's backrest model #297-B which offers excellent contoured support with a clean look. This model can be make with or without the option of chrome studs on the rear.
Notice how both seating platforms are sculpted to fit the shape of the human body and seat the rider lower into the bike. This is what we call "ergonomic" design and it is one of the critical features of the Corbin saddle. Wide, dished platforms create more square inches of body contact and longer lasting support without hot spots. Lower seating position provides good ground reach and makes you feel more integrated with the bike. Inside, our exclusive Comfort Cell foam provides a firm, resilient ride that lasts. Over time, Comfort Cell will adapt to your body and provide a personalized fit for even greater comfort.
As with most Corbin saddles, this model uses genuine leather seating panels for a ride that breathes with your body. Luxurious and durable, leather will provide comfort for many years and will break in along with the foam shape for a personalized fit to your posture. Available in a range of colors and textures by special order. We show it here in natural grain black leather with orange flame stitching and chrome studs. A variety of thread colors are available for the stitching. For a little extra add electric heat (see below).
For those chilly morning rides we offer an option of heated rider seating. We incorporate a heater unit under the leather seating and switches on the left side of the saddle (so you can turn it on without removing your hand from the throttle). Just flip the switch and the seat will warm up and maintain temperature automatically. Corbin's heater comes completely pre installed in the saddle and you need only integrate the included pigtail to your fuse box. Separate controls for rider and passenger provide for independant operation.
Notice how the saddle is designed to fit perfectly to the tank, chassis and fender... Corbin's Wizards have mastered where the leather meets the metal. This kind of fit is available only in genuine Corbin saddles through our patented Integrated Molding system. This process allows us to engineer extremely tight tolerances and fit complex shapes like the beautiful, flowing HD fender. Don't get fooled into thinking a seat designed for earlier model Wide-Glides is going to fit properly!
As you've probably already noticed, Corbin's Dual Touring saddle will work with the detachable passenger backrest and luggage rack option from The MoCo. Other sissybar options may also work, but have not been tested at this time.
Installation is simple with a tongue in the front and a single bolt into your fender at the rear. For a very clean installation that requires no tools, we offer a chromed billet thumbscrew (#ACST-20). Just slide the saddle into place nose-first and tie down the rear into the stock location in your fender. If you opt for electric heat, the saddle will include a pigtail wire that integrates directly with your Harley fuse box (complete instructions included).
Specially designed to fit perfect on the new 2010 Wide Glide models, notice how closely the Dual Touring saddle matches up to the Harley tank. We have also specially sculpted the nose of the saddle to make it narrower and allow an easier reach to the ground. Smaller riders mearly slide forward and out of the bucket slightly to have better ground reach at stop signs and in parking lots. Yet long range riding comfort is maintained with a wide, generous bucket to support your posterior.
If you're looking to add a bit of convenient storage, the rear finishing plate can be replaced wtih the Corbin exclusive
Glovebox
. This adds four liters of locking storage that is perfect for maps, cell phones, bottled water and other small travel essentials. Comes fully lined and weather stripped to protect cargo. Available in plain black ABS or prepainted gloss black for a little extra.
It all started with a Norton Atlas over 50 years ago… Now the Corbin name is synonymous with Quality, Hand Crafted motorcycle saddles worldwide. Hand built with pride in the USA using proprietary, purpose built materials and patented manufacturing processes. Unique, cutting edge designs that provide the perfect blend of form and function.




Over 1,400 part numbers means they offer more applications across more brands and models than any other motorcycle seat maker. Trends come and go, but quality never goes out of style.




Corbin offers more than 70 color and texture options for your custom build motorcycle seat at no additional charge. Corbin saddles include genuine leather seating for a truly luxurious ride that will last for years to come. Build your seat any way you like from mild to wild.




Corbin is proud to support the Championship winning team of Jared Mess and join forces with Memphis Shades to field up and comer Cole Zabala in the 2022 season.
Specifications:
UNIQUE TECHNOLOGY:
The design and manufacture of Corbin products is so unique that Mike Corbin himself holds more than 60 United States Patents! From the process itself to new innovations like the Corbin Glovebox, you can count on highly functional and unique products that work. Corbin products are manufactured under one or more of the following US Patents: 6,848,156 B2; 6,729,516 B2; D 489,540S; 6,655,740 B1; 6,422,648 B1; 5,544,937; 5,608,957; 4,953,911; D545,073S & 6,971,714 B1.
FIBERTECH™ BASEPAN:
A purpose built, hybrid material that provides a firm foundation to support the carefully designed ergonomics of the Corbin saddle. Provides a precision fit to every arc and contour of the machine and rides on rubber bumpers to protect your paint. We always design our basepans as flat as possible so bumps or odd shapes don't telegraph through the foam to your body.
COMFORT CELL® FOAM:
The heart of the Corbin saddle! Our exclusive, purpose built foam material, called Comfort Cell, was created to provide a firm, resilient ride that doesn't break down. This means it will support you for long days on the road. Over time, Comfort Cell will break in to provide a personalized fit to your posture and even greater comfort
ERGONOMIC SHAPING:
A major part of the design criteria of the Corbin saddle is the Ergonomic shape. This means the saddle's foam shape is designed to emulate the curves of the human body. This provides more square inches of body contact and helps to eliminate hot spots. This shaping also neutralizes the seating platform to help curb sliding in the saddle which reduces fatigue. In a nutshell... more comfort for a longer ride!
PATENTED MANUFACTURING TECHNOLOGY:
Always an innovator, Mike Corbin invented Integrated Molding technology which is now the process by which all Corbin saddles are made. This process allows extremely tight tolerances and creates a chemical bond between the foam and base material.
GENUINE LEATHER:
We use leather in all panels of the seat that contact your body. This provides a luxurious ride that breathes with your body. Leather will also break in along with the foam shape to support the personalized fit. Available in a wide range of textures and styles to suit your taste.
ELECTRIC HEAT:
As an option we can include electric heat in this saddle! This option provides a true bit of luxury for when the temperature starts to drop. Simple to install with major components pre-built into the saddle. Just wire in the included pigtail and you're ready to roll.
CORBIN BACKREST SYSTEM:
The first and most versatile removable backrest system available for motorcycles! Corbin's backrests provide added vertical back support and long range comfort. Supported by internal hardware for a very clean look. Backrests adjust to rider's profile for a tailored fit and install or remove easily as desired.
---
Connect with our Team


Questions?

Call or WhatsApp: 786-242-5400 📞